Beschrijving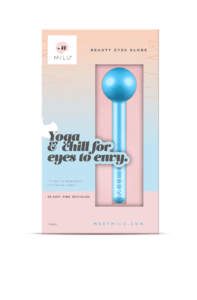 FOR ALL SKIN TYPES
MEET YOUR NEW YOGA BUDDY!
DE-PUFF. FIRM. REVITALIZE
Upgrade your me-time in just 5-10 minutes, with this cooling, daily facial yoga routine, which is designed specifically for the eye area. MILU's beauty eyes globe will freshen up your day, so get comfortable and make sure all eyes are on you! For best results put the Beauty Eyes Globe in the fridge for a few minutes prior to use.
THE BENEFITS
The high-quality glass yoga buddy reduces puffiness, firms skin and improves blood circulation for a brighter complexion. It also makes sure your favorite eye cream and serum are absorped even better.
Reasons To Love…
Helps improve your natural glow
Works quickly & efficiently
Designed for busy lives!
And many more reasons to love…